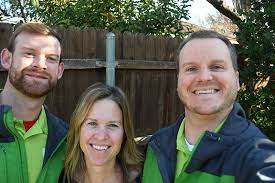 Our team has grown over the years and we are very excited to have added some fresh faces for this year!  Watch for our new look vehicles and staff coming to your home.
We opened for business here Dallas / Ft. Worth in 2010 operating as Venus Pest Company DFW (specifically the Dallas / Ft. Worth market).  In 2018 our agreement with Venus Pest Company ownership ended, so we re-branded as Green Defense Pest Control with a renewed dedication to providing the best, most effective, and safe pest control services for homes and businesses in the Dallas / Ft. Worth area.
Green Defense Pest Control Mission
Our dedication to our clients and the environment is unwavering. Utilizing our proven methods for the best pest control services for homes and businesses, we continue our commitment to the health of your family, our families, and the other animals that live in our environment.
Premium Level Service
We call this our "Jerry Maguire" strategy as defined by, "We do what the client wishes."  Online search can be a dangerous thing for pest control as there is tons of misinformation out there, but we strive to cut through the noise and put our clients at ease with our knowledge and expertise.
Green – Eco-friendly Pest Control
As we've said before, our name says it all.  We will not compromise your health, or the health of your family, pets, friends, the environment, or our own employees. Unlike some competitors, we always use eco-friendly solutions.
Rob Jones
Rob grew up in Coppell and except for a couple stints in the Bryan/College Station area for school, has lived around Dallas most of his life. He got into pest control looking for a better life after a 10 year corporate career with Verizon. His wife Meaghan, two kids Alice and Bobby, two cats Lord Voldemort and Tee, and Gunther the Golden Doodle fill his life with joy. They love to take the family traveling and doing anything outdoors or watching TV together.
Shane Burcham
Shane's official title is Mr. Manager and he can be found doing just about everything for Green Defense Pest Control. He was born in Longview and lived there until he went to college at Texas A&M University where he got a degree in Recreation, Parks, and Tourism Sciences. Shane lives in Lewisville now and loves to spend time with his special lady friend as well as their families and friends.
Rachel Montgomery
Office Manager
Rachel is our Office Manager extraordinaire! She lives in Coppell and has two children, Tatum and Liam, and an ornery husband. They have a black lab named Timber and a handful of chickens…they eat the eggs, not sure about the chickens though. She attended the University of North Texas and graduated with a degree in Business Management. Rachel has been working with Green Defense since August 2012.